An old parishioner recalls that one day he heard that the new priest Fr Diamond had bought a piece of land on the corner of Penny park Lane and Beake Avenue. All were amazed because this was scrub land and very marshy. The parishioner went to the piece of land and saw Fr Diamond with a spade. " What are you doing?" asked the old parishioner. I am digging the foundations of our new church he says. The parishioner replied "Fr. it will take until he year 2000 to do that, have a rest and come back tomorrow" The next day Fr Diamond arrived with his spade to find several mechanical diggers and JCBs engaged on the task and many parishoners.
Because of the danger of mining subsidance great deal of extra foundation work had to be done before the church could be built.
Reflections of Mick Moor
Looking North from where the main altar now is:
Under the East transept near the Blessed Sacrament Chapel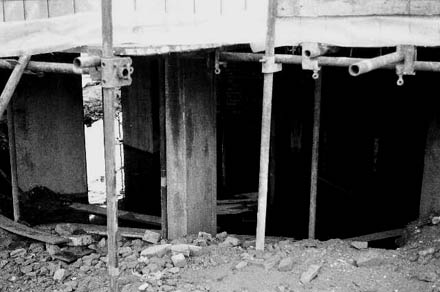 Looking through the East wall side windows toward the altar: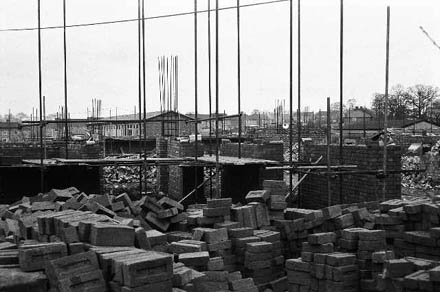 Looking South through the 'main doors' from Penny Park Lane:
West wall taken from the steps up to the side door of the Hall towards Beake Avenue: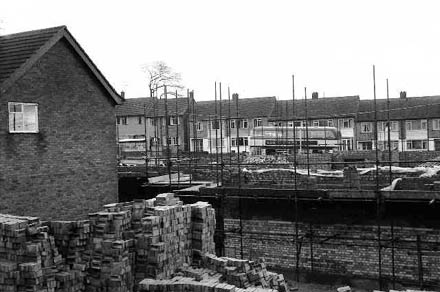 As above from the other side of  Beake Avenue near the bus stop: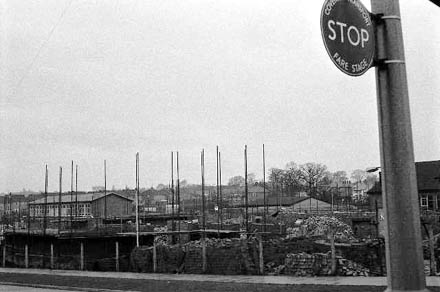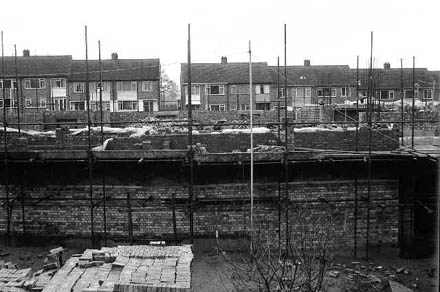 In 1989/90 Fr Donlon Refurbished the inside of the church. The walls were painted of white, replacing the rather dull grey, new carpets fitted. The sanctuary area was altered extensively and a new smaller altar installed. The choir stalls behind the altar were removed and the choir now sings from upstairs in the 'Choir loft' at the back of the church. The Stained glass window was installed, which together with the repainted walls made the church interior much brighter. The new 'Stations of the cross' were commissioned completed and installed. New lighting was also installed, as well as being brighter, the new lighting has warm yellowish glow which makes the church feel warmer. The PA system was renewed, so now we have both static and radio microphones and amplification for the choirs and a 'Loopsystem' for the hard of hearing.